Unlock the benefits of cloud-based disaster recovery
If you don't have a disaster recovery (DR) plan in place, creating one that involves a secondary site or service can be challenging and draining on both time and budget. If you do have a DR plan, the challenges lie in the maintenance and scaling of your DR solution to accommodate growth. In the face of such challenges, ask yourself these questions:

Can you protect your production environment during a disaster and minimize operational disruption?

Are you comfortable taking on the expense and management of replicating your production environment to a secondary site?
Cloud-based DR allows you to protect your production environment without the burden. It's a great way to improve on an existing DR plan or get a new plan into operation with minimal cost and resources.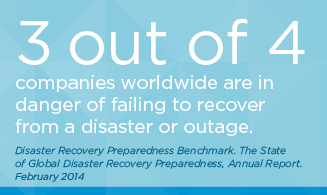 VMware vCloud® Air™ Disaster Recovery is a simple recovery-as-a-service solution that can provide operational consistency, stability, and support for your primary data center in the event of a failure, outage, disaster, or any other cause of downtime. Now you can receive the reliability and security you trust from VMware and leverage the same tools, skill sets, and platform investments to protect your business from downtime and data loss.
Enable data and app recovery

Protect data and applications without investing in new hardware or a secondary site.

Get started with minimal investment

Choose the level of service you need and scale up protection as business demands.



Run backups on your schedule

Select what to protect and schedule backups to run when they make the most sense for your business.

Leverage cutting-edge features

Choose from multiple recovery points and depend on native failback support.

Review our infographic to learn why cloud-based disaster recovery is the right choice.
DOWNLOAD >>
"By utilizing vCloud Air Disaster Recovery, we have reduced our existing recovery point objective (RPO) by 74 percent and our recovery time objective (RTO) by 90 percent."

—Chief Executive Officer, National Physician Services
Explore vCloud Air Disaster Recovery
Review these resources to learn more about the advantages of cloud-based DR and vCloud Air Disaster Recovery.
Find out if vCloud Air Disaster Recovery is right for you
Read our tech tips to learn more and sign up today for vCloud Air Disaster Recovery to get your first month free.
Read our tech tips to get up and running fast

Review our tech tips, "How to Get Started with VMware vCloud Air Disaster Recovery."

Get your first month of vCloud Air Disaster Recovery for free

Take the next step and get your first month free with subscription.



Register and select your offers